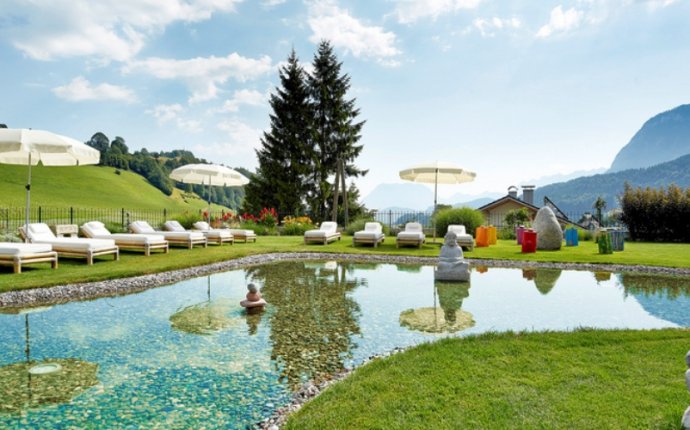 Ayurveda Resort Sonnhof, Austria
Tucked away in the Tyrolean Mountains is the 30-room Ayurveda Resort Sonnhof, a perfect family-run hidden gem. We came across this jewel a few years back and were bowled over by their take on Ayurveda, which also offers exceptional value for money, and is only a couple of hours from London.
In Austria, Dr. Alaettin Sinop leads the Ayurveda team of 13 specialists along with Dr. Guarav Sharma, and they offer a huge range of programmes, from shirodhara to the full-on traditional Panchakarma detox, as well as acupuncture, and the best oil massages you will ever experience. In terms of activities, you have daily yoga, breathing exercises and meditation by the lake. The daily programme is comprehensive and there is a lot to keep you fully occupied.
Food is delicious and healthy, colourful and enticing. Nutrition plays a prominent role in Ayurvedic medicine and is considered one of the three pillars of health. Ayurveda Resort Sonnhof offers a balanced vegetarian cuisine that is based on the principles of Indian healing but adapted to suit western taste buds. The ingredients are first class and sourced from the local farms and markets. In Ayurveda there are three constitutional types (Vata, Pitta and Kapha), and the suggested meals for each constitution differ. Their Ayurveda specialist Gaurav Sharma provides guests on an Ayurvedic treatment programme with detailed instructions regarding meals.
Sonnhof is a family-run affair and the owner, Johann, is always on hand to ensure that guests have all they need for the perfect stay. He is assisted by his two daughters – Lisa, who teaches many of the Yoga and meditation classes, and Christina, with her Ayurvedic degree, who is involved in the daily running of the Ayurveda programme. Sonnhof is perfect for those who would like to sample the principles of Ayurveda, without have to schlep to the Indian sub-continent. It's just as good for the purists, and for those who know and love Ayurveda, and as it offers good value for money, it's perfect for all spa lovers.
Source: www.healingholidays.co.uk