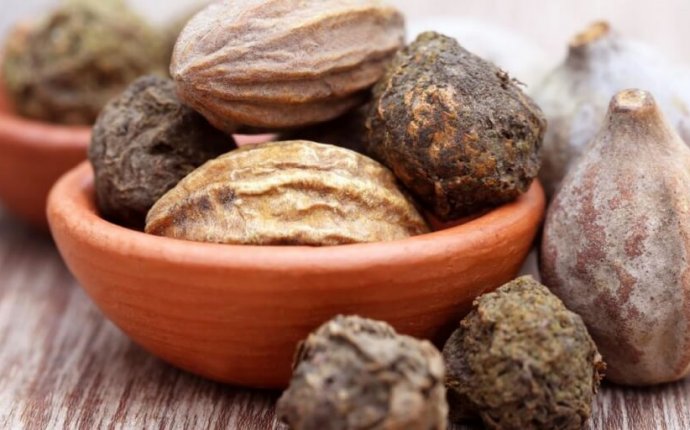 Harad Ayurveda uses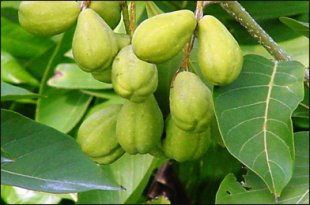 Description of plant
Terminalia chebula is medium to large sized deciduous tree growing up to height of 25-30mt and diameter of trunk of this tree is 1mt. this plant matures with numerous branches and rounded crown. Bark of this medicinal plant is dark brown in color with longitudinal cracks. Leaves are oval or elliptic, 7-8cm long, alternate or sub opposite in direction with a petiole of 1-3cm. leaves are oblique and unequal at the base and have 5-8 pairs of veins. Fruit of this plant is ovoid drupe, broad, blackish and have five longitudinal ridges. Flowers have dull white to yellow color with strong and unpleasant odor. Flowers of this plant are hermaphrodite and fruits are yellow to orange-brown in color. Flowering of this Indian medicinal plant appears between April and August and plant bears fruits from November to January.
General information
Haritaki is one main key ingredient in triphala and famous rejuvenating herb. Common name of haritaki are Indian hog plum and Indian walnut. It is miraculous fruit with immense healing power. Most important point about this herb is that it increases longevity and it is good liver tonic. It is natural compound that is very essential for promoting overall body health and for the support of digestive system and functioning. According to ayurvedic medicinal system powdered form of this herb is used in the treatment of intermittent and chronic fevers, polyuria and anemia.
It contains various chemical compounds like chebulagic, chebulin and corilagin. Various antioxidants of this plant are phloroglucinol, pyrogallol, ferullic, vanillic and caeffic acid.
Haritaki is gentle laxative, purgative, astringent, anti-bilious and anti-oxidant in nature. This herb is laxative, digestive, tonic, expectorant, anti-dysentery, and carminative and has good properties.
Special note about Terminalia chebula
Bhavprakash explained seven types of haritaki according to its medicinal properties and distribution in various places.
Seven types explained are:-
Vijaya haritaki - It is available in vindhya Mountains and used to cure all type of disorders.
Rohini haritaki - It is available in Sindh, fruit is circular in shape, very beneficial for consumption and wound healing.
Putna haritaki - It grows in Himalayas having small fruit and big seed, it is very effective for using it externally.
Amrita haritaki - It is easily available in champa Bhagalpur area with thick fruit pulp, best used in panchakarma.
Abhaya haritaki - It is also available in champa area with five layers of fruit skin and used for treatment of eye related disorders.
Jayanti haritaki - It is found in Saurashtra region of Gujarat with yellow color flowers and best used to cure all type of disorders.
Chetaki haritaki - It is available in Himachal Pradesh with three layers of fruit skin and used for purgation therapy.
Habitat
Haritaki is native to India and it is also distributed in china, Nepal and Sri Lanka. In India it is widely distributed in sub-Himalayan track from Ravi to west Bengal and Assam. It is also cultivated in Fiji, Pakistan, Malaysia, Philippines, Vietnam, Cambodia and Indonesia.
Source: www.planetayurveda.com