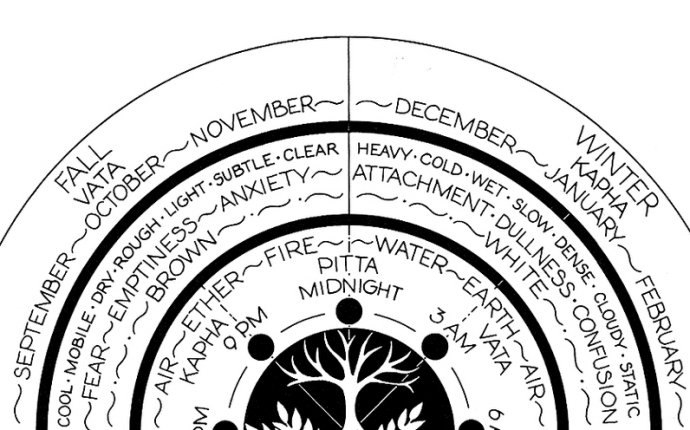 Ayurveda Basics
Ayurveda's concept of the Tridoshas is unique to medical science. Ayurveda says the body is made up of tissues (dhatus), waste products (malas), and doshas (loosely translated to Energetic Forces). It is the Tridoshas' job to assist with the creation of all of the various tissues of the body and to remove any unnecessary waste products from the body. It is also the Tridoshas that influence all movements, all transformations, all sensory functions, and many of the other activities in the human body and mind.
Return to .
The Vata dosha is responsible for all movement in the body and is the most important of the three doshas. This is for two reasons. First, if Vata becomes imbalanced for long enough and sufficiently enough, it can also cause the other two doshas (Pitta or Kapha) to become imbalanced. It can even cause both Pitta and Kapha to become imbalanced; this is called a Tridoshic imbalance and is the most difficult to overcome. Secondly, Vata is the main driver or mover of the body, including the other two doshas, all the tissues (dhatus) and all of the waste products (malas).
Vata provides the following functions: Return to . The Pitta dosha is associated with fire or heat and is responsible for all metabolism in the body. Wherever there is transformation, there is Pitta (doing its job). Whether it is in the GI tract, liver, skin, eyes or brain doesn't matter, for these are all locations where Pitta works.
Pitta provides the following functions: Return to . Kapha is the heaviest of the three doshas. It provides the structures and the lubrication that the body needs. These qualities help to counterbalance Vata's movement and Pitta's metabolism. A big, heavyset football play or wrestler is a person with a predominance of Kapha.
Kapha provides the following functions: Return to . Because by learning how to balance the Tridoshas, the following goals can likely be achieved:
What is really nice about Ayurveda is that learning to balance the Tridoshas is easy. Much of Ayurveda is common sense; it is based upon the laws of nature. The tools one uses to balance the Tridoshas are lifestyle management and the proper nutritional protocols.
Source: www.vinayakayurveda.com