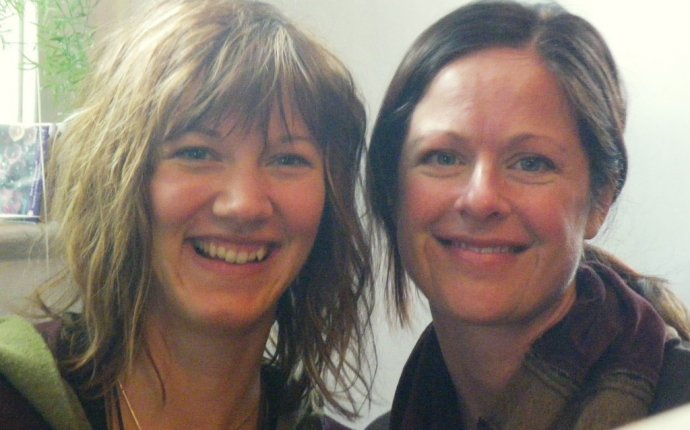 Ayurveda Winnipeg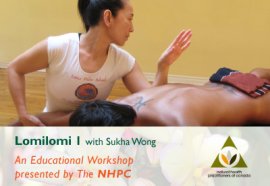 Moving Forward and Forging Ahead
With the change of seasons I am looking forward to continually forging ahead to new and exciting collaborations and developments in the near future.
Being the leaders in the industry we must keep reinventing ourselves and take the risk to do something different all while offering the same quality trainings and adjusting to challenge ourselves to always do better and be better.
With your help we are building a stronger community to bring Thai Massage to another level. Together we can do anything!
-Sukha Wong
Director of Lotus Palm
October 22nd to 24th 2016 in Winnipeg, MB
We are bringing Lomilomi to Winnipeg with this NHPC Educational Workshop! Don't miss this chance to take this level 1 course with Sukha Wong.
The Hawaiians believe that Lomilomi helps release the blockages in the body giving energy new direction and looking at all things in terms of energy flow. Lomilomi is not just a physical experience; it also facilitates healing on the emotional, mental and spiritual levels as well. Much of this work is done by loving compassion using loving hands and an open heart. Learn this ancient form of Hawaiian massage that covers broad areas of the body using long continual strokes incorporating prayer, breath, dance and energy into this Lomilomi massage.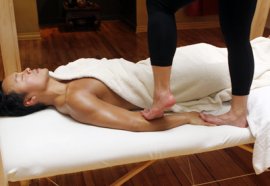 Location: Hampton Inn Winnipeg Airport
730 Berry Street Winnipeg, Manitoba R3H 0S6
October 14-16 in Montreal
Learn how to address troublesome tension areas on the body using only your feet! With the aid of stabilizing bars use your body weight to treat clients and avoid repetitive strain injuries to your wrists and arms. Learn to give a deep compression massage effortlessly by controlling your body weight to customize for every shape and size leaving the client feeling completely relaxed and stress free.
Register online: Ashiatsu 1 in Montreal from October 14th to the 16th or by phone 514.270.5713.
• • •
If you have already taken this course and would like to review, you can join us again for only 50% of the regular price! Places are limited. Register by phone: 514.270.5713.
Thai Fun Fact: Monkey Buffet Festival
One of the country's most unusual festivals is the annual Monkey Buffet, held in front of the Pra Prang Sam Yot temple in Lopburi province. More than 600 monkeys are invited to feast on over two tonnes of grilled sausage, fresh fruit, ice cream and other treats. The locals see it as a thank you to the monkeys which inhabit the village and bring thousands of tourists there each year.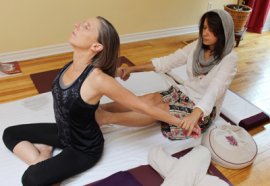 October 12-16 in Toronto
Ayurvedic Thai Therapy Level 1 bridges Thai Yoga Massage with its historical roots in Ayurveda and its profound philosophy. As students learn the fundamental of Ayurvedic philosophy and the 3 mind-body constitutions (Vata, Pitta, and Kapha), they will be able to apply these concepts in the context of a new 60-minute massage flow.
Course content and outline:
• How to determine an individual's Ayurvedic constitution
• How to bring energy movement with vayus into Thai Yoga Massage
• How to create a customized 2-session Thai Yoga Massage wellness program according to a person's body-type
• The fundamental concepts of Ayurveda history, philosophy and healing
• How to incorporate use of knees as a massage technique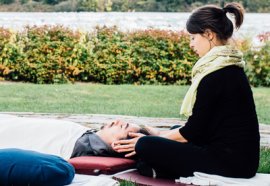 Register online: Ayurvedic Thai Therapy 1 in Toronto or by phone 647.352.7256.
Note: This program counts as Thai Yoga Massage 3 for students who are taking this workshop as part of the Lotus Palm Intermediate Certification.
"It is through yoga that Thai Massage was introduced into my life little by little. It was during a long stay in the Caribbean with a fabulous teacher and therapist that had introduced me to therapeutic acroyoga, incorporating several Thai Massage techniques..."
To fulfill the certification requirements, students in Montreal and Toronto must complete fifteen hours of supervised Student Clinic to give them hands-on experience with clients
.
* It is mandatory to register at least 48 hours in advance. Call us and provide the name your guest(s) and the time they will be coming for their massage.
• Montreal: 514.270.5713 or toll-free 1.855.888.5713
• Toronto: 647.352.7256
Guided Reviews have a new date and time! These reviews are designed for students who wish to go over an entire Thai Massage flow of a specific level 1 through 6. An instructor will guide an entire flow twice. Students will partner up with each other both giving and receiving that will take 90 minutes each.
Source: www.lotuspalm.com