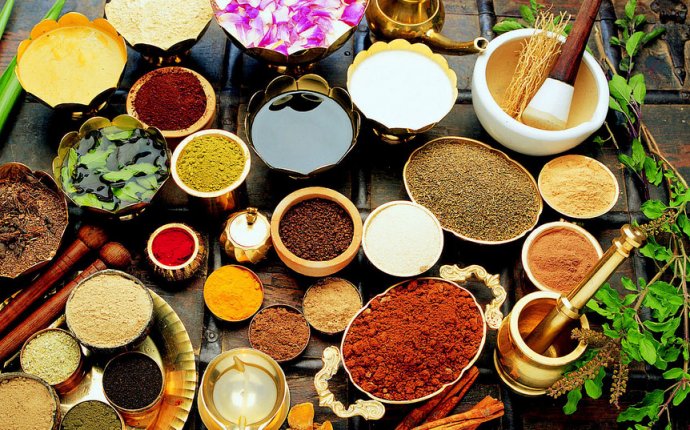 Ayurveda Retreat India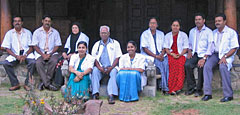 Relax • Release • Renew
Imagine the perfect vacation: deep relaxation and Ayurvedic healing treatments, combined with yoga and meditation guided by Gyandev and Diksha McCord, plus a variety of delightful Indian cultural experiences all at Kerala's finest seaside Ayurvedic retreat.
This can be yours next winter at a certified Gold Leaf Ayurvedic facility that has been recognized as the best Ayurvedic resort in Kerala for more than ten years.
It features excellent doctors and therapists headed by Dr. Raman, and exceptionally good food, Ayurvedically prepared. The facilities are clean and well maintained, and the setting is a tropical paradise: lush with palm trees, tropical flowers, and green lawns, terraced down to a point just above the Arabian Sea. You'll stay in a traditional Keralan cottage, with the sound of the ocean soothing you day and night. A short walk brings you to a broad, peaceful, uncrowded private beach with chairs, umbrellas, and towels provided.
Nursing CEU Eligible: 25 hours
(Shorter version, 7 days: 15 hours)
Yoga Alliance RYT's and E-RYT's: This course offers up to 15 hours (for 7 days) or 25 hours (for 12 days) of continuing education credit. Ask your instructor for documentation.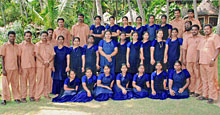 Ayurvedic Doctors
Ayurvedic Therapists
There aren't enough superlatives to describe this trip! If you want to have a life-changing experience and the best, most relaxing vacation of your life, go to Kerala with Diksha and Gyandev! I vacation a lot, and have been to many places in the world, and this was without a doubt the best vacation experience I have ever had. I can't say enough good things, so I will end by saying, "I want to go again!"
– C. Gier, CA
I am so blessed to have been on this retreat. I know I've experienced deep healing on many levels.
– S. Rodgers, CO
It was the best vacation I have ever had. The Ayurveda / Yoga experience surpassed my expectation. Two-hour massage each day for seven days and the daily practice of Yoga postures brought joy, peace and total relaxation. If you want to deepen your Yoga and meditation practice and be pampered, this trip is for you.
– L. Gluckman, CA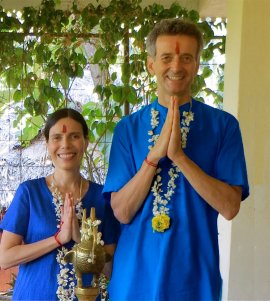 I loved the resort, I loved the people, I loved India. I loved the whole experience. I added a new dimension to my life.
J. Gosling, CA
Gyandev and Diksha McCord, two of Ananda's best-loved instructors, are ideally qualified to lead your Ayurveda retreat.
Gyandev is director of Ananda Yoga® worldwide and a co-founder of Yoga Alliance. Diksha directs Ananda's Meditation Teacher Training and has studied and taught Ayurveda and Ayurvedic cooking for many years.
Both Gyandev and Diksha have experienced the treatments at Somatheeram and recommend them highly.
EXCELLENT!!! Diksha and Gyandev made the trip a complete success.
J. Perez, CA
Gyandev and Diksha are the best group leaders for a trip retreat that I have ever been with.

Your retreat package includes...
Transportation from Trivandrum Airport to resort and back
Accommodations
Two delicious Ayurvedic vegetarian meals each day (breakfast and dinner)
Classes on Ayurveda, Hindu spirituality and Healing
Personal consultations with the staff Ayurvedic doctors
7 therapeutic treatments (6 treatments for those on the 7-night package) for either Rejuvenation Therapy or Purification Therapy
Daily Ananda Yoga and meditation session guided by Gyandev
Evening entertainment of Indian music, dance, and drama
Guided excursions to Indian cultural and spiritual sights
Source: www.expandinglight.org