Sciatica Treatment in Ayurveda
Many of us suffer from aches, pains and stiffness at some stages in our lifetime. Our unhealthy lifestyle and unhealthy eating habits are responsible for various joint disorders and other problems associated with our bones and muscles.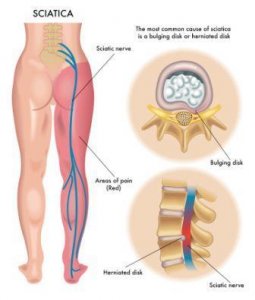 SCIATIC NERVE
The largest and longest nerve found in human body is sciatic nerve. It starts in lower back and further it is found in whole lower limb till foot. These are two in number and formed by reunion of L4 L5 S1 S2 and S3 spinal nerves.
WHAT IS SCIATICA?
Sciatica is not a disease or any condition, it is bunch of symptoms which include pricking pain, numbness, tingling sensation weakness that starts from lower back and radiated to buttocks and lower limbs till foot. Main cause of pain is sciatica is rather compression or irritation of sciatic nerve.
AYURVEDIC OPINION
"GRIDHRASI" is ayurvedic term used for sciatica and this is a painful condition of lower limbs. Word gridhrasi is derived from Sanskrit word "GRIDHA" which means vulture. Due to severe pain legs become stiff and slightly curved and patient walks like vulture. It is a vatavyadhi and intake of vata rich foods cause aggravation of vatadosha which is main cause of sciatica. Initial symptoms of this disease are pain, stiffness, sensation of pricking needles, pulsation and gripping sensation in gluteal region and further this pain is relocated in kati region ( pelvic region), jaanu ( below knees), jangha (legs) and pada (foot). This painful sensation in lower limbs is due to vitiation of vatadosha.
Ayurveda also considers Vata-Kaphaj Gridhrasi in which vata is main dosha and kapha is sub dosha.
Symptoms of other diseases becomes major factors to cause this disease and are mentioned below:-
Disc prolapse
Spinal stenosis
Pregnancy
Tumors
Osteoarthritis and osteoporosis
Rheumatoid arthritis
Infections of pelvis
Pelvic fractures
Dysfunction of sacro-iliac joint
SYMPTOMS
Pain is the major symptom of this disease and it may vary from mild to severe. Pain is radiating and it worsen on sitting, standing and even in lying position.
Numbness
Tingling and pricking needle like sensation
Muscular weakness
Difficulty in leg and foot movements
DIAGNOSIS
Physical examination
Blood examination
ESR count
X-ray, CT scan and MRI
Abdomino - pelvic ultrasonography
Urine examination
HERBS USED TO CURE SCIATICA
Haritaki, vibthaki, amalki, sonth, ashwagandha, haldi and guggul are herbs used in ayurvedic system that give miraculous results to relieve pain of sciatica.
HERBAL PRODUCTS OF PLANET AYURVEDA FOR THE MANAGEMENT OF SCIATIC PAIN
Boswellia curcumin is a wonderful products of Ayurveda that contains shallaki (boswellia serrata) and curcumin (curcuma longa) as main ingredients. Both the herbs are best in action and properties because of their anti-inflammatory nature. This herbal formulation helps to overcome severe pain and inflammation. It improve flexibility and movement of joints.
DOSE: 2 capsules twice daily after meals.
PACK: Pack size of 60 capsules is available.
Most ancient and common herb used in ayurvedic system is curcumin. Extract of Curcumin is only used to prepare this herbal formulation. This herb has anti-inflammatory, anti-viral, anti-cancerous and anti-biotic properties. This supplement helps to balance body energies namely, vata, pitta and kapha. Sciatica is vatavyadhi and this herb brings back vatadosha in equilibrium. This natural herb acts wonderfully in arthritis, osteoarthritis and rheumatoid arthritis.
DOSE: 2 capsules twice daily after meals
PACK: Pack of 60 capsules is available.
Yograj guggul is a brilliant combination of various ayurvedic herbs like- guggul resin (Commiphora mukul), chitrak (Plumbago zeylanica), pippali (Piper longum), ajwain (Carumcouticum), vidang (Embeliaribes), kulanjan (Alpinia galangal), chavya (Piper chaba), puskaramula (Inula racemosa), Rasna (Pluchea lanceolata), haritaki (Terminalia chebula), bibhtaki (Terminalia bellerica), amla (Emblica officinalis), daruharidra (Berberis aristata), gokshura (Tribulus terrestris) etc. This herbal formulation helps to pacify vata dosha in joints, muscles and nerves. It helps in improving immunity and it also act as anti-oxidant. It regulates metabolism of body and eliminate toxins and waste products from body.
DOSE: 1-2 tablets twice daily
PACK: Pack of 120 tablets is available.
Ingredients of orthovita oil are:-
Shulgjendra oil - 15 ml
Tarpin oil - 9 ml
Prasarani oil - 5 ml
Gandhpura oil - 5ml
Sendhvadi oil - 15 ml
Kapoor - 1 gram
Orthovita oil is classic ayurvedic oil to strengthen joints and restore mobility of joints. It is used to reduce inflammation, stiffness and pain in joints. It gives brilliant results to relieve the pain of sciatica. General massage of oil slowly ease up the swellings inside the joints. This oil is very effective for both acute and chronic pain associated with body joints. It is also beneficial in back pain, neck pain and osteoarthritis.
HOW TO APPLY?
Take 5- 10 ml of oil in your palm. Rub it gently over the painful joint. Don't expose to cool air and wrap with warm cloth for 1-2 hours.
Aamvatantak churna is herbal blend of unique herbs that gives wonderful results for various joint pains. Herbs used in this blend are ashwagandha (Withania somnifera), haridra (Curcuma longa), methi (trigonella foenum graceum), suranjan (Colchium autumnale), gorakhmundi (Sphaeranthus indicus), sonth (Zingiber officinale). This herbal combination is used for arthritis, joint pains and rheumatoid arthritis. It is best used to reduce inflammation and swelling in joints.
DOSE: 1 teaspoonful twice daily after meals
PACK: Pack size of 100 gram churna is available.
Hakam churna is a perfect blend of herbs and herbs used in this herbal formulation are chandershoor (lepidium sativum), kalonji (nigella sativa), methi (trigonella foenum graecum), ajwain (trachyspermum ammi). This combination has anti-spasmodic properties. It is best used in painful joints, stiff joints, morning stiffness and backache. It is best natural supplement that works wonderfully for rheumatoid arthritis, osteoarthritis cervical spondylitis and other inflammatory conditions that are underlying diseases associated with sciatica.
DOSE: 1 teaspoonful once or twice daily with lukewarm water.
As we discussed above it is neither a disease nor a condition. It is mainly a symptom associated with other underlying disorders that are associated with joints, lower limb and backbone. So to cure all underlying conditions associated with bones and joints planet Ayurveda also provides a pack named "JOINT SUPPORT PACK".
Dosage
Bone Support Capsules - 2 Capsules twice daily
Coral Calcium Complex - 1 Capsule twice daily
Joint Aid Plus - 2 Capsules twice daily
Curcumin Capsules - 2 Capsules twice daily
Source: www.planetayurveda.com