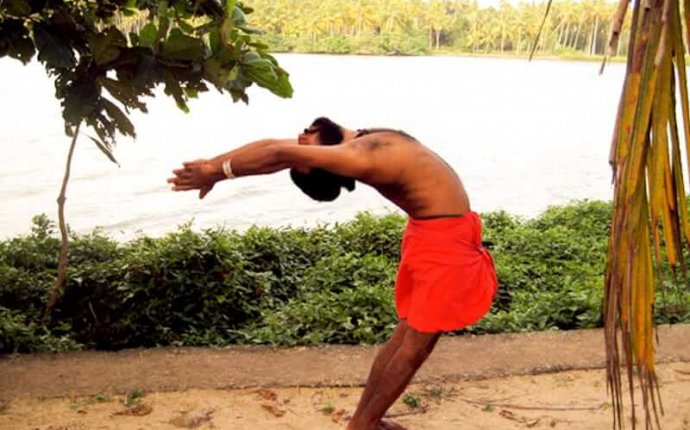 Kerala Retreat with Ayurveda & Yoga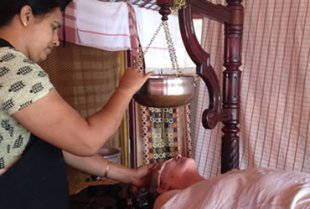 Ayurveda diagnoses each person's individual constitution, then seeks to strengthen the person as a whole. This approach boosts all systems, including the immune system, by removing toxins, not only physical, but mental and spiritual.
Ahimsa offers an augmented form of this treatment, administered by Unnikrishnan Gurukkal, in which the principles of Marma are incorporated into traditional Panchakamra. Gurukkal is a highly esteemed title granted by his peers for his training and expertise. Kalari-Marma-Chikitza involves complex 1 to 2 hour massages and is administered by 2 to 3 persons.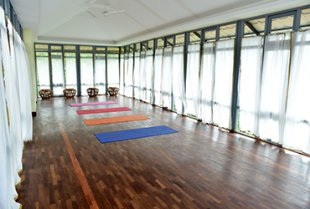 "I can't imagine how it works, but I certainly feel better" is a comment we often hear, even as soon as the day of first treatment.
Available Year Round
Each day at Ahimsa begins with yoga: sunrise yoga, which teaches healthy breathing and gently strengthens and flexes all joints and muscles. Yoga and meditation retreats at every level, from beginners to instructors, are also available. Yoga instructors are welcome to plan and lead their own retreats or Ahimsa can provide qualified yoga instructors to lead these retreats, including an expert in Sanskrit.
Because of Ahimsa's relationship with Unnikrishnan Gurukkal, we are able to offer a unique program in which he will teach Kalaripayattu, a choreographed martial art form based in yoga and developed in Kerala starting in medieval times. Forbidden by the British, it is now assuming some of its original prominence and prestige. The course will be similar to our other workshops in that it will use the airy yoga studios and living spaces, and will include both daily lessons and supervised practice time. Each class must include six or more students, who will be pre-qualified by Ahimsa.
Source: ahimsaretreats.com