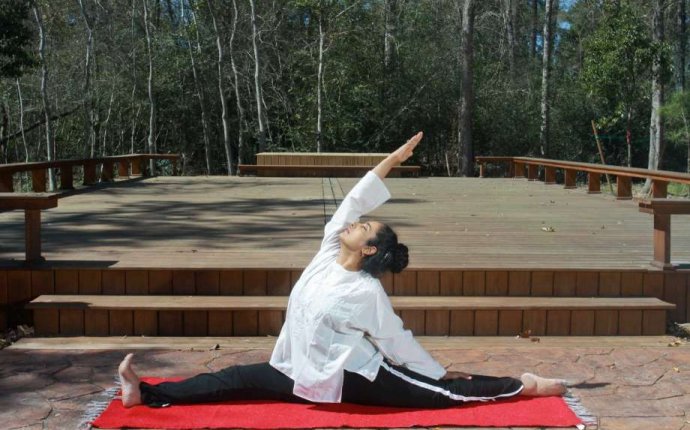 Houston Ayurveda Yoga
13602 Kluge Rd
Cypress, TX 77429
(281) 256-8461
Turning off the road into this retreat of a center was my first clue that I was entering an oasis instead of a yoga studio. I was then greeted with a life sized Nataraja statue and I knew this place was special. Someone has taken great care to create a healing space. It FEELS like peace here. From the crystals, to the incense, soft music, and of course the spirit of the people who greeted me with welcoming smiles and authentic joy for my arrival. I came here for a yoga class but received a blessing instead. A reminder of what Yoga is really about: surrendering, opening, being present to the peace that already dwells with me. I am encouraged to continue creating these spaces for myself and others. No, not encourage...Inspired. Houston is lucky to have such a place. OM Namaste
The most amazing magical experience! I was visiting from Fl and was interested in Reiki. My girlfriend who lives in Texas suggested Houston Yoga & Ayurveda. We made appointments for Reiki with Sharon. I can't even describe it you will just have to try for yourself! I loved it so much I even brought my 13 year old daughter to experience it. The staff is incredible all around. You can enjoy the crystals, Angel cards and even delicious tea. I can't wait for my next trip back to Houston! Sharon will definitely get a visit from me
This review is not based on the classes here. I've never been to a class here. I've only purchased a gift certificate. But the experience was memorable enough to warrant a review. I don't want to be mean and I'm not going to name any names, but the employee I interacted with was a bit lacking in professionalism. She didn't seem to know how to sell a gift certificate, she took a long, personal phone call during the middle of our transaction, she told me my credit card was denied (it wasn't, she had put the information in incorrectly), and she charged my card twice. When I called to get the second charge taken off my card, it was done fairly quickly, but still. And then they put a pretty short time limit on the gift card.it has to be used in about a month, which doesn't seem like a lot of time when you work full time and have young children. Classes here might be great, but buying a gift certificate was not.
This place was a sanctuary and refuge during a very tumultuous time in my life. Peace and tranquility reside here! The yoga teachers were all great and very patient. (I was a newbie.) If you're curvy, no need to feel ashamed or embarrassed. Sharon is an absolute gem. You will not be disappointed! Time on your mat is always a good thing. Time on your mat at this studio is amazing.
My wife and I met with Sharon Kapp, a certified Ayurvedic Specialist for a health and lifestyle consultation and we were truly impressed by the amount of information and topics that Sharon covered. Sharon took the time to explain the science of Ayurveda and how it ties into any of our concerns regarding our health and symptoms. We were prescribed very practical and uncomplicated lifestyle changes that seemed simple at the time but after getting a better understanding of biological clocks and when organs like the liver go to work, applying these changes helped us to find less irregularities in our digestion and more peace. We saw great results and came back with other family members that we knew would benefit from Sharon's guidance and they also have seen great results, when of course, the recommendations have been applied and put into practice. I have done follow up consultations and Sharon always takes the time to listen and you wont feel rushed at all. If something does not make sense, Sharon will go to great lengths to explain concepts and ensure that the reasoning is understood. We are soo glad we found this center here in Houston.
This place has to be by far the best Yoga Center. You feel very peaceful when you walk in. I love Sharon. I rate this place 5 stars. Amazing!
Beautiful place, im taking my 200 hr yoga teacher training here with Sharon. She is so inspirational and caring. The other teachers here are also wonderful, i love this place like home. It is by far the best studio i have been too. If your spirit has been directing you to find a place to grow on your journey this is the place to have your fire kindled.
Truly a healing and loving atmosphere. Staff is genuine and knowledgeable.Sharon and staff walked me through Panchkarma treatments in summer of 2014 and it changed my life. I highly recommend. A retreat close by! Nancy O.
This place is wonderful!! I met with Sharon for a consult a few months ago. She opened my eyes to how nature gave us what we need, how processed our food has become, and how lessons from Ayurveda can be incorporated into the western world. I've incorporated her suggestions and some of her herbs into my daily routine and I've lost inches and pounds...but more importantly, I feel so much better! My mind is clear, my eczema has cleared up, I sleep better, and just generally feel overall healthier. She works with me even though I'm out of town. I've done follow-up phone calls to check in and see how things are going. Again, she's wonderful!! I highly recommend everyone to come visit her - it will definitely change your life!!
Finally yoga and ayurveda come in their most natural and spiritual expression in this beautiful space of vibrant energy. The moment you drive in, your mode switches completely. Worries and stress is left somewhere behind the gates. Sharon is a very kind, knowledgeable and intuitive hostess and her yoga classes (as well as the yoga room) are something not to miss. After the class we had a nice tea time, also enjoying the view of beautiful backyard with "Buddha trees" (I didn't remember the name, but it was the kind of a tree, under which Buddha became enlightened). Today I also had an ayurvedic consultation with Sharon and can only say that you should try it out for yourself. :) Great experience overall! Thank you, Sharon, for putting your heart into this!
Source: www.yelp.com