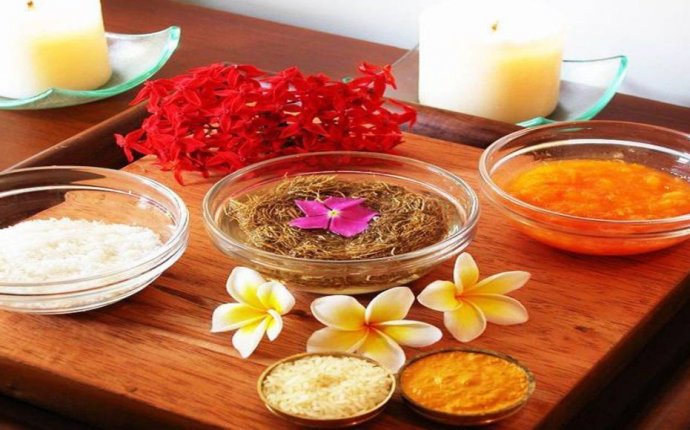 India Holistic Medicine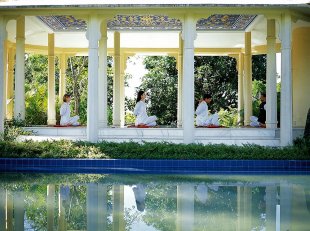 India has always been the land of spirituality. From the ancient times, its divinity and spiritual beliefs have been carried on for ages. Today's modern time, which is governed by human developments, is quite forward moving. In such a fast paced environment, one can neglect the feeling of clinging to the past. And why to cling to the past, being forward is actually productive. But amidst this pace, one must not avoid the rich past legacy which still feels right. One such element of the past is Yoga and Ayurveda, of which India stands proud of.
Yoga and Ayurveda took birth in India in the mythological times and its basic nature and values has been the same-complete peace in mind, body and soul. It is not limited to India anymore. World class cities like Paris and Los Angeles have found it as a new trend for the elites. In any way the west adopts it, roots of this ancient practice will always be imbibed in India. Owing to the growing popularity of Yoga and Meditation, several spiritual centers have opened in the country. Listed below is the list of some of the best retreats that provide holistic healing in India.
Ananda in the Himalayas, Narendranagar
Situated in the Himalayan mountain estate of Uttarakhand, Ananda in the Himalayas is a luxury resort. It is not a usual resort where you would check in for a leisurely holiday. The resort was set up in the year 2000 as India's first spa destination. It focuses on the traditional Ayurvedic and Yoga practices of India and combine it with therapies of International spa. Dedicated to the concept of Ayurveda and Yoga, practices and teachings at Ananda aim to maintain a complete balance of body, mind and soul.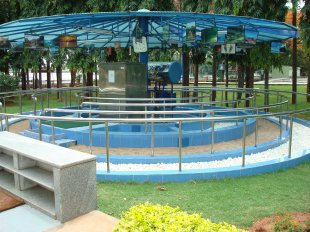 Address: The Palace Estate, Narendra Nagar Tehri – Garhwal, Narendra Nagar, Uttarakhand 24917
Jindal Naturecure Institute, Bangalore
Situated in a lush green, eco-friendly campus of Bangalore, Jindal Nature cure Institute is a charitable naturopathy hospital. Unlike its counterparts, the hospital believes in offering non-invasive, drug-less therapy to cure specific diseases. The treatment has its prime focus on Ayurveda and Yoga therapies. Other regimes like physiotheraphy, acupuncture, diet therapy and Vega therapy are all part of the treatment. At Jindal NatureCure, it is not just about relieving a patient from some medical condition, but learning a healthier way to lead life.
Address: National Highway 4, Jindal Nagar, Tumkur Road, Bengaluru, Karnataka 560073
Bio Resurge Clinic, Alila Diwa Goa
Founded by Ghem Schimmer, a fitness guru from Australia, who trained the likes of international models and Hollywood stars, Bio Resurge Clinic is amongst the popular holistic healing centers in India. Students at the institute are made to stay in five star accommodation in optimum luxury. As part of the daily schedule, fitness classes and wellness program are conducted within a duration of 28 days. The programs are designed as per your health which combines with nutritional organic food produce effective results.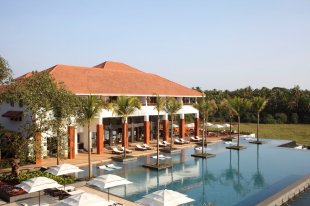 Address: 48/10, Village Majorda, Adao Waddo, Salcette, Goa 403713, India
Tushita Meditation Centre, Dharamshala
As Dharamsala in India, is a major Buddhism-centric place, Tushita found no place better than it to set up its facility. Tushita is actually a center to study and practice Buddhism from the Tibetan Mahayana tradition. Over the time, the center has attained huge popularity among domestic and foreign travelers. At Tushita, aspirants are offered retreat and advanced courses on Buddhist philosophy and traditions. Experienced meditators also have the luxury of meditating in separate huts. Besides meditation, aspirants can also indulge in getting information on Buddhist philosophies. Forr this, the meditation center houses an inhouse library.
Address: Mcleod Ganj, Dharmsala, Himachal Pradesh 176219
Ashiyana Yoga Retreat
Located in the beautiful Mandrem beach of North Goa, Ashiyana Yoga Retreat is a spellbinding tranquil space to relax body, mind and spirit. Beautifully reflecting the other side of Goa, which is aloof from its loud party culture, the renowned yoga center is turning out into a popular hotspot for tourists. Yoga and meditation here is not about performing difficult asanas, but it is inclined more on self discovery. Besides connecting to the soul through yoga and meditation, aspirants can also avail the benefits of spa facility at Ashiyana Yoga Retreat.
Address: Junas Waddo, Mandrem, Goa
Shreyas Yoga Retreat, Bangalore
A quiet getaway from the chaos of a city life, Shreyas Yoga Retreat is one of the best holistic centers in the country. The center is renowned for its teachings based on the philosophy of Vedanta, which is the bedrock of Yoga and spirituality in India. In precise terms, Yoga and Meditation classes at Shreyas Yoga retreat are primarily based on Ashtanga and Hath Yoga. Along with conducting Yoga classes, the center also focuses on offering rejuvenating Ayurvedic massages. Traditional Ayurvedic massages like Abhyanga, Shirodhara, Udwarthanam, Sarvangadhara and Choorna Pinda Sweda are the major highlights, which one can expect at Shreyas Yoga Retreat.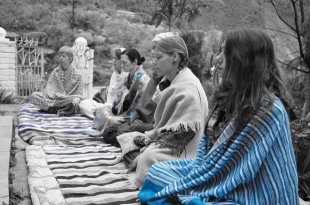 Address: Santoshima Farm, Gollahalli Gate, Near-Hesarghatta Lake, Nelamangala, Bengaluru, Karnataka 562123
Ayurveda Yoga Meditation Resort, Coonoor
Located amidst the perfect natural setting of Nilgiri mountains, Ayurveda Yoga Meditation resort is a beautiful and rejuvenating paradise. Contributing to the legacy of Yoga and meditation in India, the renowned center of Coonoor offers packages on yoga, meditation and ayurveda.
Besides classes on traditional yoga and meditation, aspirants are also offered rejuvenating oil massages, which are a part of the daily curriculum at the resort. One can also indulge in recreational activities like cooking and organic farming here.
Address: Ayurveda Yoga Villa Palvelichem, Bavali PO, Kartikulam, Wayanad district, Kerala, South India 670646.
Yoga Vidya Spiritual Retreats, Kerala
A heavenly abode of spiritual enlightenment, Yoga Vidya Spiritual Retreats in Kerala is one of the selected few, that focuses on Hatha Yoga and meditation. Regular classes on Yoga and meditation, followed by Ayurvedic spas are the prime highlights of any normal day at Yoga Vidya.
Address: Jaiva Eco Campu, Moozhikkulam, Kurumassery P.O. Ernakulam District, Cochin, Kerala 683579
Isha Yoga Center, Tamil Nadu
Situated at the foothills of Velliangiri in Southern India, Isha Yoga Center is one of the top holistic healing centers in India. Yoga and meditation at this renowned center goes beyond physical postures, which are known as Asanas. The center has segregated its teachings into four kinds of Yoga. These are named as Gnana Yoga-Yoga of intelligence, Bhakti Yoga-Yoga of devotion, Kriya Yoga-Yoga of transforming your energy and Karma Yoga-Yoga of selfless action. Besides teachings of yoga and meditation, there is also a rejuvenating center in the premises. It's aim is to bring vibrancy and balance in one's life spiritually and mentally.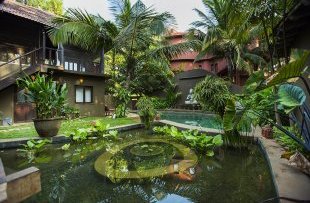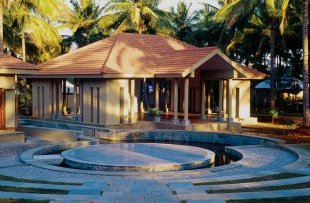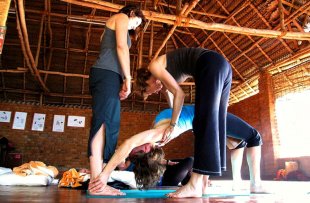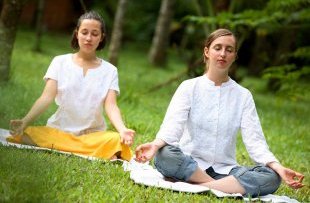 Source: www.indianholiday.com