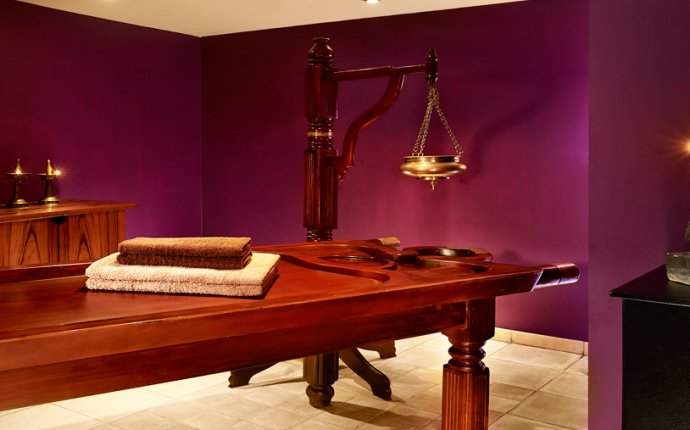 Droni Ayurveda Equipments
We wish to introduce ourselves as the largest manufacturers and exporters of traditional Ayurveda Panchakarma equipments and apparatus in India and exporting to all Ayurveda centers, star hotels etc in all part of the world.
We provide the necessary equipments and apparatus, table (droni), Shirodhara stand, steam chambers, and automatic steam generator etc. manufactured in traditional way. We believe that we are the only agency making wooden Droni in "single" piece of wood.
We could also provide all oils, powders and medicines for the use at the centre. We are making this Ayurveda preparation on Bio-energy conservation method - which gives greater potency to the medicines and oils
(a.) Ayurveda Wooden Massage Table - Pathy - Ayurvedic Massage Droni
Made of medicinal wood – Single joint - size : 9' x 30" x3.5" – Kiln Seasoned and Oil seasoned , Certificate of authenticity of wood from Forest Research Institute and Brass work are provided.
(b) Wooden Massage / Droni / Pathy - Stand for Droni :
Made of stainless steel or medicinal wood with stoppers to prevent movement of Dhroni during treatment .
2. Shirodhara Stand with Bronze / Brass / Copper / Dhara Vessel
Made of medicinal wood or stainless steel in quadrupod construction. Collapsible design allows portability. size :200cm x 60 cm. The 3 litre size Dhara vessel has brass chains and imported ball valve.
3. Sarvanga Bashpa Swedan Yanthra ( Lying type ):
Consists of Stainless steel frame, fiberglass bed, translucent chamber, NPG fiberglass condensate tray, SS distribution tubes, Digital temperature indicator cum controller and Boiler timer, semi – automatic heavy duty stainless steel electric boiler of 3 KW capacity with gas heating option ( dual boiler ), imported ball valve control, imported boiler thermostat, high pressure steam hose, Herbal steam facility with stainless steel basket etc.
Size: 210cm x 80cm x 90cm.
4. Sarvanga Bashpa Swedan Yanthram – (Sitting type ) :
Made of heavy duty NPG fiberglass and consisting of a FRP moulded non –slip floor with drain canal, leg guard, adjustable seat with SS top, and ring type base, steam release system made of brass fittings and copper tubes, door with SS hinges, Powder –coated steel support stand etc. Digital temperature controller and boiler timer is provided. size : 90cm x 76cm x116cm.
5. Awagaha Tub:
Made of heat resistant NPG fiberglass in full body size. Powder coated steel frame is bonded to the tub which enables stability. Can be easily carried and placed anywhere. size : 170cm x 76cm x 40 cm.
6. Spine Bath with groove :
Made of NPG - Fiberglass material with reinforcement for edges and a spinal groove . size : 101cm x 63cm x 20cm
7. Vasti Yanthram :
Made of white Bronze material in the traditional hand – casted shape.
8. Vasti Yanthram – Disposable set :
This is a kit with one Yanthram and 50 nos. nethrams of adult and paediatric sizes, all made of high grade sterilizable and transparent plastic. 50 nos. vasti putak are provided to enable different vasti volumes of 500 ml, 1000ml and 1500ml.
9. Matra Vasti & Sneha vasti Syringe –
Stainless steel syringe with nylon head ( for Mathra vasti ) and Brass head (for Sneha vasti ) with provision to use disposable plastic nethrams of adult and pediatric : sizes. Capacity: 100ml and 250ml.
10 Kativasti Yanthram / Janu vasti Yanthram/ Greeva Vasti Yanthram :
These are made of light weight fiberglass material. Suitable for different body shapes by using the multiple profiles.
11. Agnikarma Shalaka:
Made of Panchaloha metals with wooden handle and sharp tip.
12. Shirovasti Cap :
This is an adjustable cap to suit all types of heads. Made of calf leather with an inner lining of artificial leather. Size: 80cm x 19cm.
13. Vaman Peeth :
Consists of a chair and table . Made of Chrome plated cold rolled steel frame. Chair is designed to be stable in Vamanam position, SS collection tub, measuring jar, towel bar, leg support and castor wheel for table are provided.
14.Virechan peeth :
Made of chrome plated cold rolled steel frame. Teakwood back rest, Fiberglass seat in wood design and stainless steel collection vessel are provided.
15. Arsh Bashpa Sweda Yanthram :
Made of chrome plated cold rolled steel frame with cushion back, steam resistant seat and stainless steel boiler, timer and heat controls are provided in a powder coated steel console .
16. Dhooma Nethrams :
Made of white Bronze material in the traditional shape.
size : 14 cm x 4cm.
17.Panchakarma Accessories - Full set: :
This consists o 22 different products like Thannikinnam, Dhara kindi with handle, lotta, Oil bowl with handle, Varpu ( polished ), Uruli, Nasya Yanthram, Mortar and Pestle, Vanai, Chattukam etc. Most of these are hand casted in traditional white bronze metal.
18. Soft Bed for Dhroni / Massage Table :
This is shaped to fit in the body area of Dhroni and is made of good quality artificial leather and foam material .
19. Steps for Massage table / Dhroni :
This is a 2 steps ladder made of powder coated steel with rubber or plastic caps for legs.
Source: www.keralaayurvedichealthcare.com