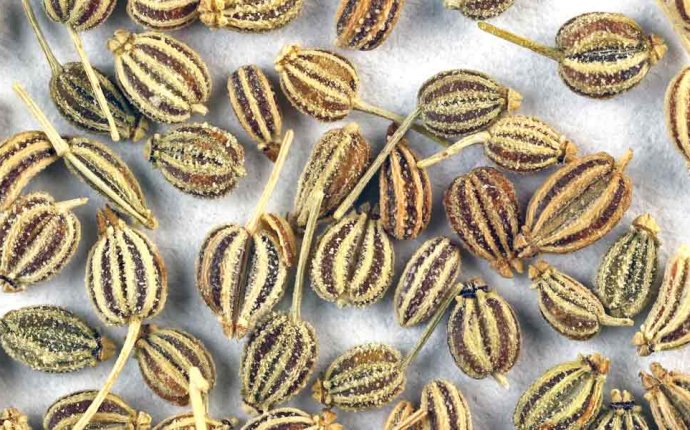 Ajwain Benefits Ayurveda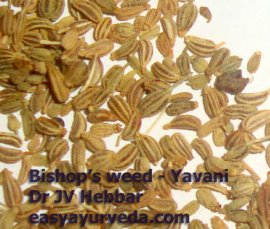 Bishop's weed or Oma is called as Yavani in Ayurveda. It is a famous Indian spice. Commonly available throughout India. It is used extensively in digestive diseases.
Family – Umbelliferae
Botanical name – Carum copticum / Trachyspermum ammi
Hindi name – Ajavan, Ajwain, Ajvain
Telugu name – Vamu
Gujarathi name – Ajamo
Punjabi name – Jabain
Kannada name – Oma, omada kalu
Malayalama name – Omam
Tamil name – Amam
Arabbi name – Kyunulmuluki
Farsi name – Nanakhaha
English name – Bishop's weed
Sanskrit Synonyms: Ajamodika, Deepyaka, Bhutika, yavanaka, Brahmadarbha, Yavasahva, Deepai, Bhumikadambaka, Teevragandha, Yavagraja
Classical categorization of Ajvain
Charaka Samhita – Shulaprashamana – herbs that relieve colic pain
Distribution: It is cultivated extensively throughout India.
Bishop's weed – medicinal qualities:
Guna (qualities) – Laghu (light to digest), Rooksha (dry), Teekshna (piercing, enters deep tissues)
Rasa (Taste) – Katu (pungent), Tikta (bitter)
Vipaka (taste conversion after digestion) – Katu (pungent)
Veerya (potency) – Ushna (hot)
Effect on Tridosha – Kaphavatahara – balances Kapha and Vata, increases Pitta.
Yavani benefits:
Pachani – digestive
Ruchya – improves taste
Deepani – improves digestion strength
Shukrahara – decreases semen
Shulahara – useful in abdominal colic pain
Useful in the treatment of
Udara – ascites
Anaha – bloating
Gulma – Abdominal tumor, bloating
Pleeha – splenomegaly
Krumi – worm infestation
Vishamaya – toxic conditions, poisoning
Shula – abdominal colic pain
Oma side effects:
It is best to avoid oma in people with oligospermia / male infertility.
Part used: Fruits
Dosage:
Fruit powder – 1 – 3 grams
Oil – 1 – 3 drops
Distillate (Ajamoda arka) – 5 – 10 drops
Ayurvedic medicines:
Yavani Shadava Churna – useful in indigestion, anorexia, haemorrhage, etc
Sarpagandha Ghan Vati – useful in insomnia, high BP etc.
Source: easyayurveda.com