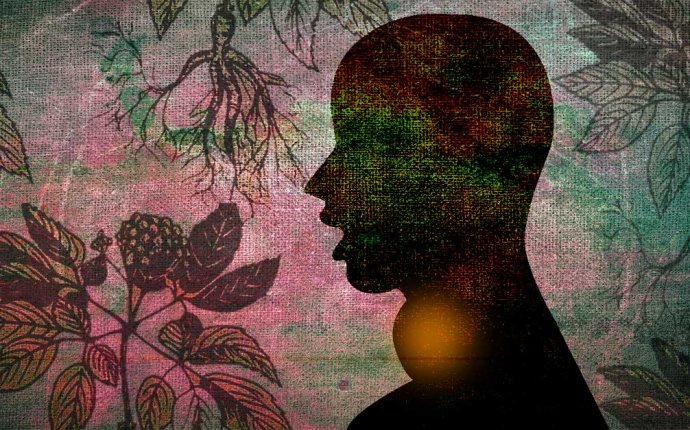 Medicine for thyroid in Ayurveda
Metabolism : is a series of complex processes by which the human body converts food, water, and oxygen into tissue, energy, and waste products. It is a continuous process and goes on in every cell of the body. It comprises the breaking down of substances into simpler parts, and their shuffling and recombination into countless new substances that compose the body. For example, the carbohydrates are broken down by enzymes and acids and converted into pure sugar or glucose.
The constructive chemical and physical process by which food materials are adapted for the use of the body is known as anabolism; and the destructive process by which energy is produced with the breaking down of tissues into waste products is called catabolism. The two processes together are called metabolism.
Basal Metabolic Rate: is the rate at which energy is consumed when a person is at complete rest. When a person is placed in a state of complete rest, the metabolic rate can be measured by measuring the amounts of oxygen and carbon dioxide exchanged during breathing under certain standard conditions. The BMR (Basal Metabolic Rate) is an index of a person's health.
Endocrine glands : Metabolism is controlled by the endocrine glands-a term applied to certain organs whose function is to secrete into the blood or lymph, a substance which plays an important role in relation to general chemical changes or to the activities of the other organs at a distance. The chief endocrine glands are the thyroid gland, adrenal glands, pituitary body, parathyroid glands, pancreas, ovaries, and the testes.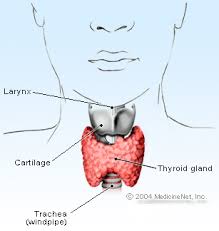 The thyroid gland is situated in the front of the neck and produces a hormone thyroxine which plays a very important role in regulating the general metabolism of the body. When it is defective, the conditions known as myxoedema (in adults) and cretinism (in children) result. An excess of its secretion is associated with a condition known as exophthalmic goitre or thyrotoxicosis or Grave's disease.
1. Hyperthyroidism or thyrotoxicosis
: in which the gland secretes excess of hormones. This condition is more common in women than in men whose age ranges from 30 to 50 years. Thyrotoxit individuals become tremulous, irritable, anxious and even hysterical. Because the metabolism is raised, they experience rapid heart rate and palpitation, rapid shallow respiration. Frequent bowel motions and diarrhoea, Flushing, heat intolerance, sweating, menstrual disturbance and sometimes bulging of the eyes. Such people suffer the paradoxical situation in which they feel fatigue and lack of energy and yet are compelled to move about, talk and do things. They are constantly fidgeting and the slightest remark may set off an inappropriately angry response.
2. Hypothyroidism
: here the thyroid is under active, producing too little thyroid hormone. This condition is far more common than hyperthyroidism and can be caused by iodine deficiency or thyroid failure brought on by pituitary dysfunction, inflammation, and scarring. By far the majority of cases are mild or borderline, unrecognized by the medical establishment. Yet these mild cases can be the cause of vague, but persistent, disorders such as fatigue, depression, loss of vitality, and overall hormonal imbalance. More severe problems from hypothyroid are the result of failure to develop properly, such as cretinism and juvenile myxodema. Long term hypothyroidism, such as adult myxodema, which is characterized by swelling of skin and subcutaneous tissues; dry, cold and slightly yellow skin, puffy face, loss of eyebrows, angina pain, bradycardia, anorexia, constipation, and anemia.
Source: ayurveda-foryou.com