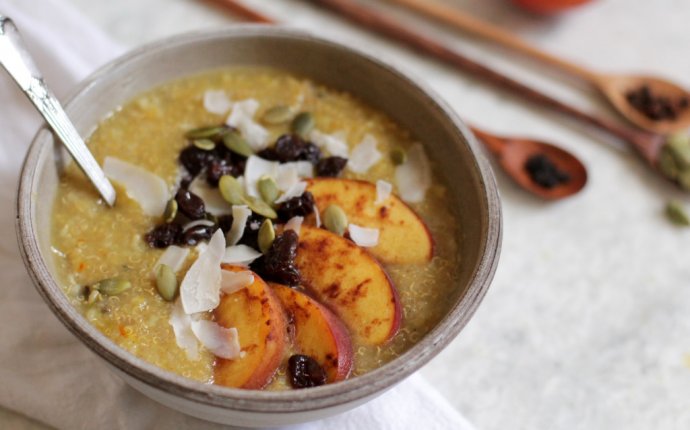 Ayurvedic Breakfast
Even if you don't consider yourself to be a morning person, there's still much to love about those first few moments after you roll out of bed: In their stillness you can get ready to step into the day by organizing your thoughts, assessing your needs, and—when it comes to breakfast—nourishing your whole self.
As we're all unique individuals and our bodies call for different things, there isn't a formula for a breakfast that suits everyone. Instead, starting the day off right means understanding your body and digestion, and choosing what works for you. This tuning in is at the heart of what we teach at Kripalu, which can help point the way toward a breakfast that's balanced with you in mind:
1. Heed your hunger. Not everyone can eat like a lumberjack first thing in the morning, so prepare the right-size meal for your body type. From the Ayurvedic perspective, for instance, those with more delicate constitutions (vata types) should have a warming but light meal, like simple hot cereal, while hardier folks who wake up hungry (pitta types) can handle things like eggs, nuts and seeds, and fruit.
2. Fresh is best. We all know the best breakfast comes from our own kitchens—so look for whole foods (grains, fruits, and vegetables) that you can easily prepare for yourself each morning to optimize their freshness. Meat, eggs, and dairy may also have their place on the breakfast table, but only if they arrive fresh from a trusted local source.
3. Stay on schedule. Get into the habit of having your breakfast at a regular time. The body tends to get attuned to things, and if you eat at 6:00 am one day and 10:00 am the next, that can throw off your digestive rhythms. (But you don't need to eat the same thing every day. In fact, Ayurveda encourages eating seasonally, which ensures an ever-changing lineup of fruits and vegetables.)
4. Savor every bite. Ayurveda teaches that being in tune with your meal—from selecting and preparing it to quietly sitting with it and appreciating it—feeds far more than just your body. Breakfast is an ideal time to explore this practice, and discover that the more you create consciousness around what you're putting into your body, the stronger and healthier your whole body-mind-spirit complex becomes.
Source: kripalu.org